More clients are right under your nose! You just need to

go get them

!


---
The Warm Introduction Letter Campaign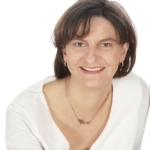 Hi, I'm Francis van Wyk.
I've been in business now for just over 5 years and I've used the warm introduction letter campaign with great success in my own business. I also taught it to my private clients and they had roaring successes with it too.
Some of my clients even call it a "life-saver".
…simply because this strategy has NEVER failed them! …Or me!
When it's implemented correctly, it does result in more clients!
So, what is a WARM introduction letter campaign?
Well, it's a marketing campaign where you send out a WARM introduction letter to your immediate network to tell them about what you do and how you help your clients. This WARM introduction letter not only help you get more clients, but also help you build your own sales-force – i.e. people who will eagerly and willingly send clients your way, at no cost.
So over the years, I've tested this in the trenches and created a 4 step plan for a warm letter campaign that works.
… but actually, it is more like a 4 step marketing strategy on STEROIDS.
And today I want to give you this 4-Step Plan as part of the Warm Introduction Letter mini-course so you can create your own warm letter campaign and get at least 1-3 new clients in in the next 30 days – almost guaranteed.
Here's a sampling of what you'll get from the 4 Step mini-course.
Understand exactly what a Warm Introduction Letter Campaign is and how to use it.
Understand what you absolutely need to include to get the best possible results from it. This is important, because your warm letter has a dual purpose that you need to get right in order for it to work more effectively.
Understand the step-by step process for setting up your campaign from scratch.
Know who specifically should receive these warm letters and what type of responses you might expect.
Know how to turn a "no" response into something positive. This is important because many people feel uncomfortable with receiving a "no" answer on marketing, but I'll show you how even a "no" answer can be positive.
Understand how to stack your warm introduction letter campaign to keep marketing momentum and to make it easier for you to follow up.
Know how to accurately predict the number of clients you might get from each campaign. When you know your numbers, it is easy to see if you can expect 1 new client and if you can expect 5, 10, 20 or more clients from your campaigns
Know how to use your numbers to adjust and/or change your approach to increase your client results, in other words to increase the actual number of clients you can get from this.
Get the EXACT TEMPLATEI use in my own business to write warm letters. This template is written in a specific format since it's important that your warm letter follows a very specific logical flow to get your reader to a "yes" answer. With this template it will be as easy as filling in the blanks, …. copy, ….paste, …. and send.
Get the exact WORD-FOR-WORD SCRIPT of a warm letter I send out during one of my own campaigns. You can use it as an example to model for your own business.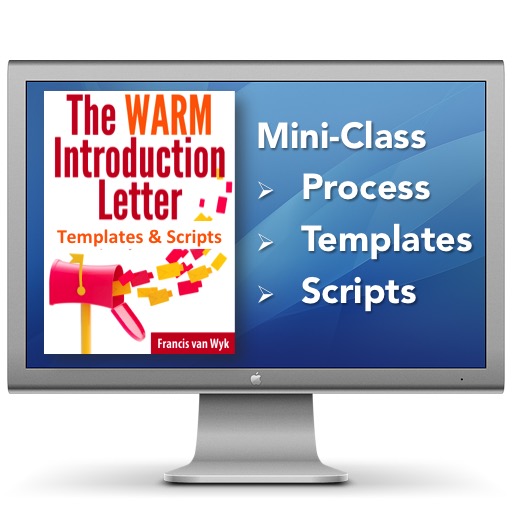 …and so much more.
Personally, I wouldn't attempt the Warm Letter Introduction Campaign without having this 4 step plan and the accompanying templates and scripts, as this will save you time and ensure you'll get better results from the start.
Now, when I thought about pricing this mini-class, I could easily sell it for $47-$97. And if you think about the value of implementing this strategy into your business it can even sell for more.
Because with only 1 client, your return on investment (ROI) will be AT LEAST 10x, 100x more than this small investment. And with every additional client you get from this, the value just stack up.
BUT, I want to make it available at a ridiculously low prize because I want to make sure this is a no-brain offer.
I do not want anything to stand in your way because I want you to give yourself the permission to put your business on the fast track…. ...and to get those clients you need!
So for, only $27, you'll get instant access to the training, the step-by-step plan, and the exact templates and scripts to create a warm introduction letter campaign that works.

Like all our trainings, this one is protected by our 30 day, no-questions-asked, money back guarantee.
In other words, if you aren't happy for any reason, just let us know and we'll give you your money back. We obviously don't think it'll come to that, but if you're even the least bit worried if this will work for you, then I want to put your mind at ease.
I want to make sure this is the right fit for you and your business. And if it is not, I'll give you a refund. It's as simple as that.
How long will it take to get access to this mini-course?
Immediately…ok, perhaps about 5 minutes 🙂
Your login and access information will instantly be sent to the email address you provide.
So, I hope you'll join me in the class and I'm looking forward to see you on the inside.
To your success!

P.S. Remember, you have absolutely nothing to loose and everything to gain as you are protected by my 30-day, money back guarantee. So don't delay. Get the Warm Introduction Letter, mini-class, today!