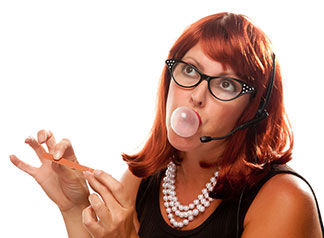 Does the way you answer your phone build or break your business?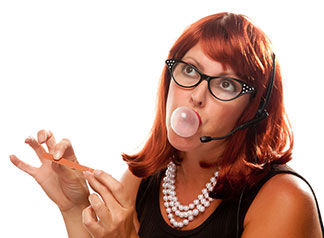 As a service professional, I sometimes find it funny (or actually scary) when people drop all professionalism the moment they start working from home – especially when it comes to the way they answer the phone.
So in the post below I'll give you a couple of telephone etiquette tips to ensure your phone conversations build your business and don't break it down.
****
But first, let me tell you about an interesting telephone experience I had recently…
I've been struggling with some technical integrations on my website and decided to get some help with it. So, I phoned someone, who came highly recommended and was ready for the (in my mind) professional / technical discussion to see if this person will be able to help me.
But my excitement and expectation soon turned into irritation, then frustration and then a clear "No, Thank You!" – all within one telephone call.
The phone started ringing …. one, two, three,… eight …
I was about to hang up when I heard: "Jellooo!!"
Just "Jelloooo!" – with the last syllable a long singing sound. No name to introduce her. No business name. Nothing.
I smiled, kept my cool and after establishing it is indeed the person I was looking for, I started to introduce myself and began to state the reason for my call.
Huge was my surprise when she interrupted me to ask if I could phone her back in ½ an hour since her neighbor is at the door!
Her neighbor…
Mmmm…
Well, perhaps she didn't need new business or it was a "life-or-death" situation with the neighbor. I'll never know.  It goes without saying that I didn't phone back and found someone else to help me.
As a service provider myself, I believe first impressions count – even over the phone. And to ask a potential client to call back… well, it didn't "gel" with me. I was speechless about that one.
The thing is, your telephone is not just a communication tool. It is often the first opportunity you have to showcase your professionalism, and I see it as the image projector of how you conduct business overall.
As coaches, consultants and virtual assistants, we rely on a telephone for business. So, we can never really let our guard down since we don't know if the next caller is a potential client.
Here are 10 easy telephone etiquette tips to ensure a positive client experience, every time…
Answer with a smile
Although this is an age-old tip, it really works. Make sure you speak clearly and are smiling when you answer the phone. This not only puts you in the right mindset to assist the person on the other side, but also lets the caller feel good about phoning.
Always identify yourself at the beginning of all calls.
When in your office, answer the telephone by stating your business name, then your own name, e.g."Be Virtual Assistant Wise good morning, this is Francis speaking".
You may even add "…how may I assist you?". If you allow family members to answer the phone on your behalf during office hours, inform them of the way you want it done.
From a cell phone, simply say, Hallo, and state your name: "Hallo, Francis van Wyk here".  Do not answer using words such as "yeah" or "yes."
Answer quickly
As a general rule of thumb, a business telephone should be answered by the fourth ring, preferably sooner. If the telephone rings so long that the caller wonders whether you are there or not, you are not practicing telephone etiquette.
Be prompt in answering the phone, be warm and enthusiastic and treat each call as if it is the most important call of the day.
Don't interrupt when the caller is speaking
Never interrupt a person when he/she is talking to you and never give the impression that you are rushed. Listen closely in order to understand their needs and requests. Give the person time to explain his or her situation. Remember, listening makes the clients feel that their needs are important. Don't sound bored or indifferent. Put energy into your voice, even if you are not having the best of days.
And don't become distracted by e-mail popping up on your computer screen or other household activities … pay full attention to the caller.
Ask permission to put a caller on hold
If you have to put a person on hold (for what-ever reason), first ask their permission and get back to them as soon as possible. Say something like:  "May I put your call on hold for a moment while I pull the information for you?"
Then, to gain the clients attention when you return to the line, call them by name and wait for the response, e.g. "Mr. Smith? (Pause for him to respond)…Thank you for waiting, I do have the information for you."
Don't use speaker phone
Don't put the caller on speaker phone. Although a speaker phone might be very convenient, your client may not think so as speakerphones tend to pick up every background noise. This may give your client the impression that you are not focusing on what they say.
Speakerphones sometime also have an acoustic background effect where the caller hears a repeat of his discussion (much the same as with some long distance/international calls) that can be very distracting.
No eating, drinking or chewing
Don't eat, drink or chew gum when talking on the phone. Aside from being very rude, these sounds become magnified over the phone. It can also make your words difficult for callers to understand.
Try also not to cough, sneeze or clear your throat into the phone. If it so happens that you must sneeze or cough, move the mouthpiece away and cover it with your hand.
Be sensitive to the tone of your voice
Clients are unable to see your face when they call, so the way your voice projects will either win them over, or chase them away. An angry or overly anxious tone might scare potential clients away.
Use a professional voice message
If you make use of an answering machine or answering service ensure that you have a professional recorded message that will give the caller the assurance you'll get back to them. It can be something like: "Hallo, thanks for calling. This is Francis. I'm not available right now, but please leave your name and number and when I return your call, I'll be glad to answer your questions. I'll be in touch soon."
Return calls promptly
If possible return calls the same day they are received. If you're "out of office" for an extended period of time, update your recording and tell clients by when you'll be able to return their calls.
Apart from these, what other telephone etiquette tips do you have? Please share it with us in the comment box below.