Discover A Proven 6 Step System to

Authentically Go From No Clients to A Steady Stream Of Paying Clients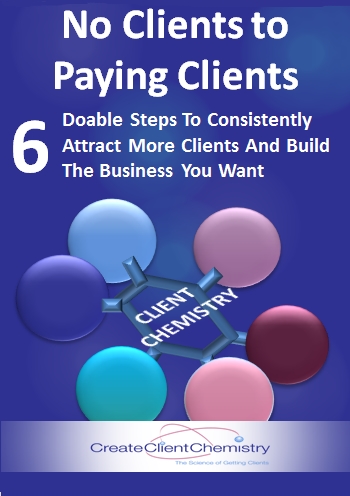 Does any of this ring true for you?
You're not really sure where to start with effective marketing
You're tired of wasting time, energy and money on different marketing tactics that just don't bring the results you want

You wish you had a clear-cut marketing roadmap to bring in clients consistently AND authentically for the lifetime of your business

Then the "No Clients to Paying Clients Action Guide" is the place to start.
This guide clearly lays out a practical 6 step system to get more clients consistently PLUS gives you action steps to implement immediately so you can start getting more clients and building the business you want.
With our compliments you will also receive free business and marketing tips and articles in our weekly Ezine INSIGHT. It will assist you in designing a thriving and profitable "client-rich" business. We promise to never sell, rent, trade, or share your e-mail with any other organization and you may cancel your subscription at any time.
Fill in your name and email below to get your copy of the "No Clients to Paying Clients" Action Guide.